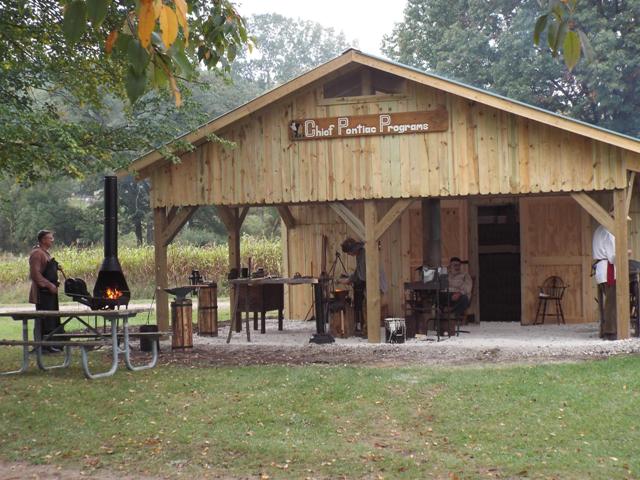 The Chief Pontiac Programs Committee is pleased to offer an Early American Skills Experience at the new living history themed area located within the Kensington Metro-Park Farm Center.
The activites are designed for youth and adults aged 14 and up.
Learn the skills that all settlers on a farm needed to know to be self sufficient. A farmer in an early settlement needed to be able to make or repair almost anything themselves.
The Blacksmith shoppe is in place, as well as a multi use shelter and Kitchen building with an open hearth and a Brick Bake Oven. The woodworking shoppe is complete.
The Fiber Arts and Life Skills shelter is now complete, where you can learn skills that were necessary to every day life on the Michigan Frontier such as making clothing or accessories. weaving and spinning, fire building, candle making, and other life skills from pioneer days.
For more information and details about the classes, fees and patch program, please see the Early American Skills Experience Web Page
For answers to some frequently asked questions: Early American Skills Experience Web Page
If you would like to make a tax deductible donation to the CPPC to help offset the cost of constructing and operating the village please follow this link: KLHV Operating and Building Campaign
Scheduled Events
The Schedule of upcoming events at the Living History Village is listed below.
On-Line Registration for cooking classes cuts off on Tuesday before the session.
On-Line Registration for all other classes cuts off on Thursday before the session.
---
Contact Us
Please send your questions or comments about the KLHV programs to KLHV@chiefpontiacprograms.org.
In addition to this web site there is also a Chief Pontiac Programs Facebook group. Check us out on Facebook to see what others have to say about the programs and to see some photo's of our past activities.
---
Changes last made on: Jan 29,2018